Required Resources
Read/review the following resources for this activity:
Complete the textbook reading for the week.
Minimum of 1 post using technologies such as Kaltura or PowerPoint to explain the concepts learned during the week.
Minimum of 1 scholarly source
Initial Post Instructions
This week we are learning about Windows and macOS. You were given the freedom to select the operating system you felt the most comfortable with. Let's discuss the following topics during this week:
Why did you select Windows or macOS as your operating System? What features did you find the most valuable?
How do you use your computer at home or work? Think about the programs and features you use the most
What is the most challenging aspect for you when using a macOS or Windows computer?
Were you a Windows user that converted to macOS or vice versa? How was that transition? What tips would you offer to those trying to switch?
What was the most surprising feature you learned this week and why?
Follow-Up Post Instructions
Respond to at least one peer. Further the dialogue by providing more information and clarification. This is a hands-on course and it is expected for you to use more visuals such as screenshots and video. Make sure to utilize that since it is a requirement.
Writing Requirements
Minimum of 2 posts (1 initial & 1 follow-up)
APA format for in-text citations and list of references
Solution: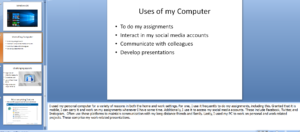 Please click the icon below to purchase full answer at only $5