Introduction
This week you will be asked to create a final presentation that will include what you have done from weeks 3 through 6. The goal is to create a presentation summarizing the research initiative, charts, and your final recommendation.
This assignment relies on what you have done in past weeks. You are expected to have done the work from those past weeks and if you haven't, this assignment will require you to complete at least some of that work. Contact your instructor if you have not been able to complete previous week's work.
Learn
Apply
Required Resources
The following resources will be used to complete your assignment:
This week you are creating a presentation to the board of directors and your job is to convince them why your research should be considered for funding. This week you are expected to complete the following.
Create a PowerPoint file and name it as "YourName_COMP150_BoardPresentation"
Create an intro slide that has the following:

The title of your presentation.
The company logo (Click here

 (Links to an external site.)

 to download the logo).
Your name and the current date.

Your presentation should contain at least 7 slides in total, not including the title slide. You are expected to show the different slide layouts and not use the same layout for every slide.

Include at least 3 slides that summarize the content from the Word document you initially created.
Include at least 2 charts from the week 6 assignment. If you created more, feel free to use them. Make sure to add each chart into its own slide and provide a summary or description of it.
Create an analysis slide where you explain your findings.
Create one last slide requesting the board to consider funding your research. Explain why it is important and why it should be considered.

You are expected to include at least two pictures within the entire slide deck. The logo and charts do not count as pictures.
You need to find a creative way to insert a SmartArt graphic in any of the slides
A theme must be applied. You are expected to customize the theme so you can match the institution's colors and styles.
Apply at least one animation. Do not go overboard with animations. Remember, this is a professional presentation.
Apply at least one transition. Do not go overboard with transitions. Again, remember that this is a professional presentation.
All of the components you are asked to add must have a meaning and purpose. Do not add them just for the sake of completing all the tasks. If there is no meaning or purpose, it will not be considered as complete.
Once your slide deck is complete, you will use the rehearse feature, time it, and record it. The presentation should not be more than 10 minutes nor less than 5 minutes. Once it is recorded, make sure to save the presentation as a video (MP4).
Provide a printed handout and save it as a PDF. The handouts should be setup showing 3 slides, as the screen below.

Finally, submit the following files.

PowerPoint document. Submit your file with the name "YourName_COMP150_BoardPresentation.pptx"
Video created from PowerPoint. It is recommended that you upload the video in Kaltura and then provide the link via the comments feature in the assignment. Either submit "YourName_COMP150_BoardPresentation_Video.mp4" or your Kaltura link in the comments feature.
Handout printout PDF file. Submit your file with the name "YourName_COMP150_BoardPresentation_Handout.pdf"
Solution:
We find ourselves in the age of the fourth industrial revolution. The new age is also called the digital revolution. Herein, humankind simply fuses various technology types. One of the contemporary forms of technology is artificial intelligence. Originally recognized in 1956, artificial intelligence has gradually evolved over the years (Graham, et al., 2019). This technology is widely adopted in numerous industries. However, the healthcare practice has been somewhat reluctant to embrace AI, especially in the field of mental health. Regardless of prevailing concerns, AI applications in healthcare are slowly increasing. Existing literature shows that there is great potential for adoption of intelligent machines and technologies in the healthcare practice.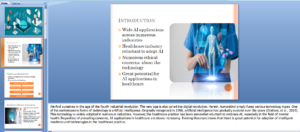 Please click the icon below to purchase full answer at only $10